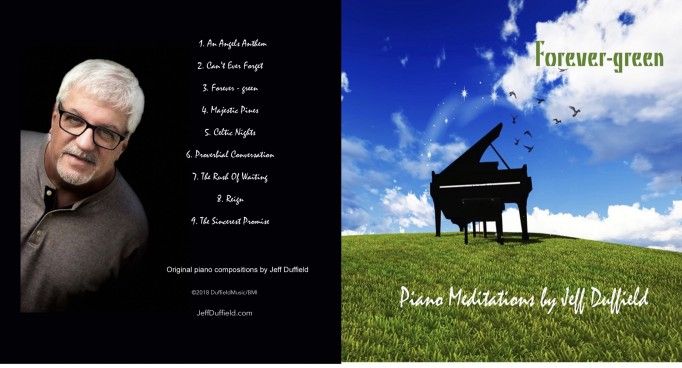 Jeff's latest release, Forever-green, is a collection of nine original solo piano neoclassical pieces with jazz, gospel, and Celtic influences. This truly meditative and reflective project shows Jeff as composer, pianist, and creative artist. He has released several contemporary and inspirational piano instrumental albums over his career, but this is a first of its kind for Jeff.
Reviews and praise for Forever-green...
(Dianne Wilkinson, musician & Songwriter - Nashville, TN)
I just listened to Jeff Duffield's new piano CD...and WOW!  Speaking as a piano player, no one can play like that...but Jeff does!  He has chosen this music for the prayer time...alone time with God...that is such a vital part of our walk with the Lord.  I would play this CD while driving alone on a road trip.  Or any time I want to enjoy something beautiful that is flawlessly done.  I highly recommend it to you for yourself, and for gifts you buy for those dear to you.  But don't loan it to anyone...you'll never get it back; buy them one instead!  God bless you today!  ("Speaking to yourselves in psalms and hymns and spiritual songs...giving thanks always for all things unto God and the Father in the name of our Lord Jesus Christ".  Ephesians 5:19-20)
(John Tussey, pianist - Pearl City, Hawaii)
"Jeff Duffield's new CD, "Forever-green" is superb! With tracks ranging from gentle to powerful, there are some really pleasant melodies and delightful, subtle harmonic changes in this music that evoke emotions not easily conveyed with words. Jeff's eclectic style, including influences of classical, jazz, pop and gospel is one that I will always enjoy and appreciate. The first time I heard Jeff play, many years ago, I was extremely impressed and realized this was someone with a HUGE talent bursting out of them. I used to listen to Jeff and Sue's records in the 1970's and even slowed one or two of them down to try and figure out what Jeff was doing. For years, I considered Jeff to be one of my mentors at a distance.I know that Jeff's music will continue to reach many with the love and power of Jesus Christ. Very well done Jeff!"